KERRAS CRUISES
THE BEST FLEET IN CYCLADES
ABOUT US
Kerras cruises was founded in 2009 by Dimitris Kerras, an experienced man in the marine industry. Mr. Kerras was born in 1946 in Syros, since then he grew up and lives in Naxos. He is also known as Tsipouras. His love for the sea drove him at the age of 10 to secretly buy a boat to go fishing. Later the boat became a fishing boat and then a fishing trawler. After that, he started to fish professionally, first in 1980 with the first fishing trawler "MARIA" and then in 1985 Mr. Kerras built in Thessaloniki the 2 fishing trawlers "NIKOLAOS-THEODOSIOS I, II" 26 m each and thus became one of the most successful businessmen of Naxos. His main characteristic is his charity as many times he has helped to tow boats and rescue people, a typical example is in 2000 when due to adverse weather conditions there was a capsized sailing boat and he rescued the shipwrecked people from the sea off Naxos. 
His contribution was awarded by the Ministry of maritime affairs and insular policy and the Minister Christos Pappoutsis.It is known that our islands are lagging behind in the health sector, so in 2005 Mr. Kerras built the first speedboat, DIMITRIOS K with which he carried out the transport of patients from all the islands of the Cyclades to Syros and Lavrio. Since 2009, the creation of four ultra-modern high-speed boats begins, the first being KYRIARCHOS I, in 2011 KYRIARCHOS II, in 2014 KYRIARCHOS III and in 2017 KYRIARCHOS IV and lastly, KYRIARCHOS V. Built in Greece in Koropi, Attica by the OCEAN YARD shipyard, they cruise and can be chartered by anyone who wants to be transported quickly and safely.
The newly built passenger transport vessels of our company are designed and manufactured in Greece. The hull geometry is a deep V. This design as well as the new generation composite materials allows the boat to sail safely and comfortably for the passengers even in difficult weather conditions. In addition, it offers high speeds and great durability over time. The interior of our boats is made of solid wood and formica , windows with safety crystals and suitable safe passenger seats. WC areas with vestibule and blower ventilation, include a marine style electric toilet, washbasin, fresh water tap with fresh water supply (hot and cold) and baby changing table. The bridge area is equipped with state-of-the-art navigation instruments.There are 220V DC power sockets , LED spot lighting throughout the interior of the vessel as well as emergency lighting even in the lifeboat launch area.
KERRAS CRUISES
KYRIARXOS 1
Country of construction: Greece
KERRAS CRUISES
KYRIARXOS 2
Country of construction: Greece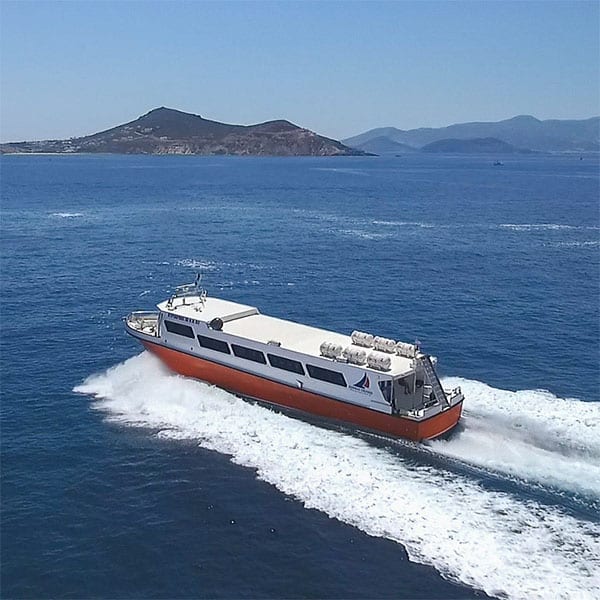 KERRAS CRUISES
KYRIARXOS 3
Country of construction: Greece
KERRAS CRUISES
KYRIARXOS 4
Country of construction: Greece
KERRAS CRUISES
KYRIARXOS 5
Country of construction: Greece